Banana Pancakes topped with Rum Glazed Bananas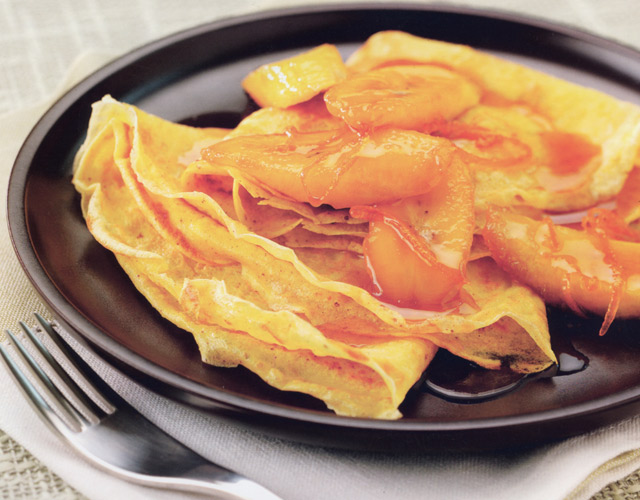 Preparation time: 10 minutes
Cooking time: 20 minutes
Makes: 8-10
Ingredients
For the pancakes:
11Og plain flour, sifted pinch of salt
2 Birchgrove eggs
200ml milk mixed with 75ml water
½ tsp ground cinnamon
50g Welsh butter
For the topping:
4 bananas
zest and juice of 1 orange
2 tbsp sugar
2 tbsp dark rum
To serve:
Icing sugar, for dusting
Crème fraiche
Method
To make the pancake batter, sift the flour, salt and cinnamon into a bowl and make a well in the centre. Stir in the eggs and gradually beat in the milk and water mix, drawing in the flour from the sides to make a smooth batter.
Melt the butter in a pan. Add 2 tbsp of it into the batter and whisk it in, then pour the rest into a bowl and use it to oil the pan, using kitchen paper to smear it round before you make each pancake.
Heat a pan over a high heat, reduce the temperature, wipe with a little of the melted butter and add two ladles full of batter. Swirl the batter round the pan and cook for about 30 seconds. Make sure the pancake is loose and toss. Cook for a further few seconds. Repeat until all the batter is used. Stack the pancakes, separating with a sheet of greasproof paper and keep warm while making the banana topping.
Peel the bananas and slice into a frying pan. Add the orange juice and zest, sugar and rum. Heat gently over a medium heat until the sugar is dissolved and the bananas have softened slightly.
Serve the pancakes folded and topped with the rum bananas.